A massive residential building in China has shot to fame for its quirky, pyramid-like shape.
The futuristic 18-storey structure is situated in Kunshan, a city near Shanghai, and has gathered great interest from the public for its unusual design.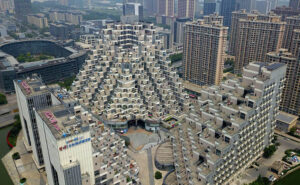 An impressive drone video released by China News Service shows how flats stack one on top of another on a 45-degree slope as if they were made with Lego blocks.
The quirky 10-storey building is located in Kunshan, China, and has become a trending topic among web users. Unique: Two sides of the building have a protruding and slanted surface while the other two are normal vertical walls. Lego-like: Flats in the building stack one on top of another on a 45-degree angle as if they were made with toy blocks.
Standing 100 metres (330 feet) tall, the bizarre yet popular building in Kunshan's Huaqiao district is a part of a residential and commercial complex, which was completed in 2013 and has two other 12-storey structures.
All three buildings have a protruding and slanted surface on two sides, and from some angle the buildings look like pyramids. The other two exterior walls of each building are normal vertical ones.
Masters' Architectural Office, the firm that designed the complex, told MailOnline that its architects were inspired by the traditional Chinese terraced rice fields, which are built into mountain slopes.
The Shanghai-based firm said it also took ideas from parkour, an urban activity which sees people running and jumping between buildings and is loved by young Chinese city dwellers. Apparently, the firm hopes the buildings would be associated with the trending and modern sport.